Staff
Pastor Troy | Senior Pastor
Pastor Troy succeeded his father as Senior Pastor in 2009. Troy has a passion for teaching the word of God. He has a desire to lead others to know Jesus, and make Him known to the world.
Pastor Troy has been married to Becky for 26 years, and is father to Ashley, Victoria, and David.
Ben Jent | Founding Pastor
Pastor Ben planted Christ Tabernacle in 2002 with the help of twelve people in a prayer meeting. With a strong emphasis on prayer, an uncompromising preaching of the word, a love for all people, and a dependance on the Holy Spirit, he served Christ Tabernacle faithfully as pastor for seven years.

Pastor Ben went to be home with the Lord on Dec. 13, 1017. He was married to Phyllis for 51 years.
Rob Huddleston | Associate Pastor
Rob and his wife, MiChell, have been members of Christ Tabernacle since the first service in 2002. They have servants hearts and desire to see people find hope and strength in serving the Lord.
Colie Sutton | Children's Minister
Colie serves Christ Tabernacle as Children's Church Minister. She is currently a student at Liberty University and is pursuing her bachelors in Biblical Educational Studies. She has a strong desire to help children learn the truth, joy and love of knowing Jesus as their Savior. She is recently married to Warron Sutton.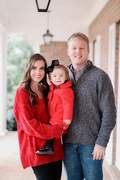 Brandon Sigler | Youth Minister
Brandon is a Caldwell Co. native, and a graduate of Ky Wesleyan. Brandon has a heart for Middle School and High School students. His desire is to see them come to know Christ as their savior and to grow and be strong followers of him. He is married to Jessie, and they have one daughter.
Missie Gill | Food Pantry Director
Missy is the director of our Food ministry. She has a heart of compassion for hurting people in our community. She and our outreach volunteers show their love, concern and respect for those in a time of need by getting to know them and praying over their individual situations.